Refresher course for First Aider in a professional environment | Recyclage du secouriste en milieu professionnel (4h)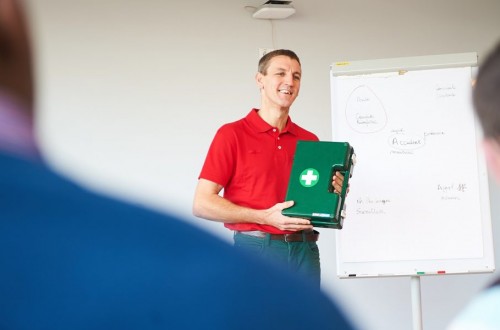 Descriptif de la formation
The Belgian Red Cross is approved by SPF Employment, Labor and Social Consultation for organizing the First Aiders refreshing course in accordance with the Code of Well Being at Work of April 28th 2017 (title 5 – First Aid).
The refreshing course allows first aiders to maintain their basic knowledge and competencies and learn recent and advanced First Aid techniques. The first aider is the first actor in the rescue chain of events in the workplace.
Legal framework:
The refresher takes place on annual basis unless the employer can demonstrate that the annual refresher is not necessary based on a previous risk analysis and the advice of the prevention advisor and the workers committee. In this case, the refresher training can be taken every 2 year.
If a First Aider cannot attend a refresher course, he must attend another one within 12 months of the initially planned training. If this is not possible, the worker is no longerconsidered having the basic required First Aid knowledge and competencies. He/she will have to retake the complete training in order to qualify as First Aider within the enterprise
Training method:
Active pedagogy, scenarios, practical and reflective exercises, exchanges and discussions
Content:
Systematic review of the following techniques and themes:
Essential intervention rules including the call for emergency professional assistance
Control of vital functions
Cardiopulmonary resuscitation of an adult using a defibrillator
Side recovery position, rolling the casualty on his/her side
Suffocation and airway obstruction
+ a module that includes additional themes based on the enterprise's specific wishes and needs:
Illness module: stroke, heart trouble, breathing trouble, general weakness condition, seizures
Musculoskeletal trauma module: head trauma, spine injury, fractures, dislocations, sprains
Wound module: simple and serious wounds, hemorrhages, amputation
Burn module: thermal and chemical burns, frostbite, eye burn
Pediatrics module: resuscitation, suffocation, specific troubles
En pratique
Duration: A minimum of 4 hours (legal framework of the Well Being at Work Code of April 28th 2017); also available in 6 hours.
Terms of access: Be in possession of the professional environment First Aid certificate; Be up to date with the refreshers (refresher of minimum 4 hours either every year or every second year based on the risk analysis).
Validity: The Validity of the First Aid certification is connected to the annual refresher course (or every second year based on the risk analysis) of minimum 4 hours. This certification is granted on a personal basis by the Belgian Red Cross and approved by SPF Employment, Labor and Social Consultation.
Kind of training:
Open training / inter-enterprise training : organised in the Red Cross facilities with 4 people maximum for the same organisation - maximum 12 people per group
OR
Intra-enterprise training (in your office): group of 12 people maximum of a same organisation -> Please contact our secretariat Formipro by phone 081.771.300 or by email formipro@croix-rouge.be to plan this training in your facilities.
Price: upon request
Language: English.
All our First Aid trainings are given by professional, qualified trainers who take annual Belgian Red Cross refreshing courses.